Biographical Sketches and Research Notes
Biographien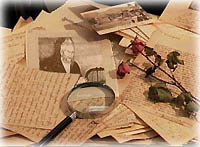 The biographical sketches on these pages describe what we know about the first nine generations of our ancestors, starting with our oldest known ancestor in Generation 1. We believe that earliest ancestor was Gerhard Nieland, born about 1615 in Gemen, which now lies within the limits the city of Borken in North Rhine-Westphalia, Germany.
For generation number 9 up please refer to the Obituaries section of the History page where you will find obituaries and funeral cards we have collected for the later generations.
Because our research is ongoing, these notes are a work in progress. As new information is uncovered, we will update the pages with new facts and will add biographical sketches for any new ancestors identified.
If you have additional biographical information about these ancestors, please contact us. Thanks!
Printing the Bios: If you want to print a paper copy of any of the biographies in this list, click on the "Printer ready page" link in the upper right corner of the biography page. After printing, click your browser's Back button to return to the biography list.