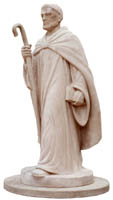 Called to the Faith
Die von Gott Berufenen
Many of our family members — our brothers, our sisters, our aunts, uncles and cousins — have dedicated their lives to serving God. This page will tell you about them, their vocations and the religious orders that they joined.
If you have information to contribute to this page, please contact us. We are interested in photographs, obituaries, and biographical information.
This large statue of St. Bernard stands in front
of the Catholic Church in Breda, Iowa
Printing the Bios: If you want to print a paper copy of any of the biographies in this list, click on the "Printer ready page" link in the upper right corner of the biography page. After printing, close the window using your browser's "File-Close Window" function or click on the "X" button in the upper right corner.

> More about the Franciscan Sisters of the Eucharist (FSD)
> More about the Franciscan Sisters of Perpetual Adoration (FSPA)
> Mehr um Franziskanerinnen in Münster St. Mauritz