Pappe Family History
This page presents historical information about the Pappe family that we have collected over the years. Click on the links at left to view the individual items. We welcome any material that you may have in your personal collections. If you have corrections or additions, please contact us!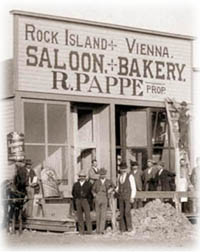 We are very grateful to the many family members who have shared their personal collections or taken the time to search for records in local museums and city archives.
Special thanks to Sharan Pappe Carman, Nancy Jersak Henderson, Raymond Pappe, and Maranita Pappe Pettit for contributing records and documents from their family papers as well as their personal knowledge of the Pappe family history.
What's New? Short biographical sketches of each of the Pappe immigrants have been added to this page. A compilation of various research notes and reports is under construction. We've also posted a lot more newspaper clippings and old letters and post cards that tell us more about our ancestors lives and their relationships. In addition to oral history passed down by our ancestors, this data was used to verify and fill in the history of our ancestors.
One of the most useful set of records are the federal and state census schedules, which can be used to track the movements of our ancestors after their arrival in the US. A census was taken every ten years, beginning in 1780. Since they are relatively easy to obtain we have not included census schedules on this site. Instead, we are compiling lists of census data and city and business directories that we have found through our research.
Obituaries, letters and newspaper articles are often a good source of genealogy information because they often have details about an individual's family and personality and give insight into the the relationships among individuals in our family tree. Some of the obituaries an newspaper clippings on website were provide by family members, but most have been obtained from historical newspaper collections in local libraries or through volunteer look-ups at local history and genealogy societies.
Some of the original records and documents we've collected are also presented. They were obtained from a variety of sources such as family collections, archives, subscription genealogy services, online genealogy websites, or through paid professional researchers in Germany and the USA. The earliest record we have is the 1824 birth record for Catherine Heinimann Pappe. Catherine was the wife of Gottfried Pappe and the mother of three of our immigrant ancestors as well as grandmother of at least six other immigrants.
If you have original or copies of Pappe obituaries, historical documents or newspaper clippings, letters, postcards or other information about our relatives or ancestors, we ask that you contact us to share your collection with other family members.