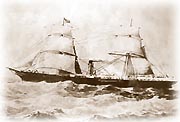 — by Kay Davis
"He walked to Holland, took a boat to England, and then sailed by steamship from Liverpool to New York," says David Nieland in his 1965 book, Stammbaum der Familie Nieland. We have learned from stories told by Henry Nieland (1852-1949) over the years and also from the SS Tarifa passenger list that Henry sailed from Liverpool, stopping at Queenstown, Ireland and arrived in Boston on August 23, 1869.
"Ein, zwei, drei, in Holland sind Sie frie!" — One, two, three, in Holland you are free!
Our immigrant ancestors were occasionally heard uttering those words. With the Holland-Germany border only a few kilometers from their homes, just walking across the border was a convenient way to leave Germany and seek a new life. Conscription was mandatory for all German men at age 18 at the time Henry Nieland emigrated. With the unending wars in Europe and the endless draft of young men, it's easy to see why he left his native country at 17. And with encouraging news of abundant food and land in letters from his sister, Anna (Nieland) Boes, who had emigrated earlier, it seems only logical that Henry would go to the Midwest. If he were to cross the ocean and start a new life, what better place to go than a town in Iowa with the familiar name of New Vienna?
A Historical Perspective

The following information was extracted from Frontiers of Faith: A History of the Diocese of Sioux City by Richard J. Roder and Immigrants in the Valley: Irish, Germans and Americans in the Upper Mississippi Country 1830-1860 by Mark Wyman.
When the French Revolution of 1789 reverberated across Europe, German life was disrupted, but not transformed. The counts, dukes and kings came back to power, but the peasants lost the belief in their fixed place in society. They began to believe they could improve their life and argued over injustice and inequality. In the early nineteenth century, there was a move to form unions and an easing of restrictions on travel. This new freedom encouraged many Germans to seek a better life. The agricultural disaster of the potato famine that spread from Ireland in 1846 and rising food prices also encouraged many to emigrate.

A flood of publications convinced many to leave. Travel books gave information on land and guides to emigration. Newspapers listed prices of steamship and train tickets to America, land for sale in the Midwest and abundant jobs available to Germans. Catholics led several colonization efforts into the Mississippi Valley. Groups of German Catholics organized under a priest or leader, selected a site, divided lots and constructed a church. These colonies became havens for those arriving later from Germany. The emigration from Germany after 1830 surpassed all previous records. Over half a million crossed the ocean during a three-year spurt in the early 1850's, 1.5 percent of the total population of the German states.

Germans reached the Iowa prairies by the early 1830's, and in 1836, when the territory was officially created., Davenport received the first representatives of the influx that eventually made Davenport a major German community. In 1842 the St. Louis newspapers announced that 529 steamboats had arrived during the first three months of the year, with more than 30,000 passengers bound for Iowa. Many of these were Germans and German communities soon dotted the Iowa landscape.

Several factors threw open the prairie to immigrants seeking land. In the 1800's, the United States had a national craze for westward settlement and internal improvements. Canals were dug, steamboat travel increased tremendously, roads were built and the railroad edged to the west. After the Black Hawk War (1831-1832), the Sac and the Fox Indians gave up most of their lands. Iowa Territory was split from Wisconsin in 1832 and in 1842 Iowa became a state. Caroll County was established in 1856 and in 1866 the Chicago and Northwestern Railroad reached Carroll, the county seat.

The John I. Blair Land & Townlot Company granted Lambert Kniest, a German clerk in Dubuque, full rights as land agent for a township of his choosing in the west. He founded a German Catholic colony in Iowa at Mount Carmel. Richard J. Roder says in his book, "Lambert Kniest, when still living in Dubuque, had expressed his desire to form a colony that would exceed the strong German parish of St. Boniface in New Vienna." Many from the parish in eastern Iowa set out to the wild prairie in Carroll County. As these German settlers made homes, more German settlers were attracted to join them. Soon the area was a magnet for German settlers.

Father Conrad Schulte was born in Westphalia, Germany and immigrated with his family to New Vienna, Iowa as a child. He was assigned as a priest to Northwest Iowa in 1882. Father Schulte founded the St. Bernard's Catholic Community at Breda and led the construction of the present St. Bernard's Church in one year - 1888.
Henry Nieland bought land in Sac county, near Breda, married and began to build a farm and a family. He was one of the founding members of the St. Bernard Church community. He had found the things he was looking for when he left Germany - freedom, land, opportunity and a good life for his family.