Antonia Reining (Nieland) 1950-1997
Ehefrau Urban Anton Nieland
Deutschland, September 1997

"So plötzlich kam die Abschiedsstunde, gebrochen ist Dein gutes Herz. Mein Gott, wie schwer ist diese Stunde, wie unaussprechlich ist der Schmerz."

Gedenket im Gebet
unserer lieben Verstorben
Antonia Nieland
geb. Reining
* 9. Februar 1950
† 15. September 1997
Ihr Leben war Liebe und Sorge für ihre Familie.
Herr, gib ihr die ewige Ruhe.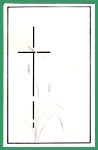 Totenzettel— Remembrance Card
Antonia Nieland
Klicken Sie das Bild an — Click on the image

Antonia Reining (Nieland) 1950-1997
Mrs. Urban Anton Nieland
Germany, September 1997
"The hour of your parting came so suddenly your good heart is broken. My God, how heavy is this time, how inexpressible is the pain. "

Pray for our dear deceased
Antonia Nieland
geb. Reining
* February 9, 1950
† September 15, 1997
Her life was all love and concern for her family.
Lord, give her eternal peace