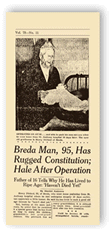 Nieland Family News
Neuigkeiten-Seite
Please send us your Nieland Family News! We are especially interested in family reunions and other major events that would be of interest to our extended Nieland family.

Bitte senden Sie uns Ihre Nachricht über die Familie Nieland! Wir sind vor allem in Familienfeste und andere wichtige Ereignisse, die von Interesse für die erweiterte Familie Nieland interessiert wäre.

At right: "Breda Man, 95, Has Rugged Constitution; Hale after Operaion. Father of 16 Tells Why He Has Lived to Ripe Age: Haven't Died Yet!' "

The article shown at the right that describes Henry Nieland's release from the hospital, after undergoing major surgery at the age of 95, was published in the Breda News in January 1947. The full text of the article is in the Clippings section of the History page.
2007 German Cousins Visit USA
Bernd and Verena (Nieland) Sinnhuber in California, Washington, and Iowa
July 2007 — In July 2007, Bernd and Verena (Nieland) Sinnhuber of Dortmund, Germany made a holiday trip to the USA to visit their Nieland cousins. They flew from Frankfurt to the first stop in their journey, Los Angles, California. Bob and Elaine (Pappe) Lawson (the webmaster of this site) hosted their visit in Laguna Beach, where they enjoyed a catamaran cruise on the Pacific Ocean, toured local churches and saw lots of beachs. From there, Bernd and Verena drove up the beautiful California coast to San Francisco to see the sights of that city and the majestic redwood forest nearby.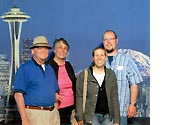 The second leg of their trip was a flight to Seattle and a few days with Don and Kay (Buelt) Davis (the primary Nieland researcher). The Space Needle and Experience Music Project were the highlights of their Seattle tour, along with seeing the original Starbucks store. They also visited Leavenworth, Washington, a mountain town that has become a tourist attraction by modeling itself after a Bavarian Village.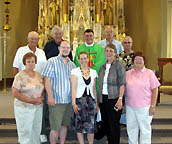 The last leg of their trip was a flight to Omaha and a drive through the Iowa countryside to Breda, Iowa. Here they were hosted by cousins, Norman and Gladys (Oswald) Nieland. Through the Iowa heat, they toured family farms and visited family homes, as well as local towns and churches. They visited the Carroll County Museum in Carroll, Iowa and learned about the history of German immigrants to the area, including our immigrant ancestors. High points of the visit were a Mass celebrated by Father Clair Boes, and an evening reunion at the Breda Legion Hall. About 75 family members gathered to meet the German visitor and renew family connections over a pot luck supper.
And then they took a flight from Omaha back to Frankfurt, with many good memories of their first trip to the USA!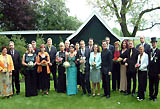 2005 "Schützenfest" in Holthausen-Blecking
Stefan Nieland Wins Shooting Contest — Crowned King
May 2005 — At the annual shooting festival (Schützenfest) in Holthausen-Bleking, Stefan Nieland, son of Anton and Annette Nieland, won the shooting contest and was crowned King. Bleking is the farming community just north of Ramsdorf in Kreis Borken, Westphalia.
Since the middle ages many towns in Germany have held annual festivals which culminate in a shooting contest. The popular carnival-like events often lasts for several days and is a time of much pageantry and merrymaking the community. Originally contestants shot at live game with bows and arrows. These days they shoot with rifles at a wooden bird figure until nothing remains. The contestant who shoots off the last remaining piece of the bird wins the contest and is crowned king (Schützenkönig).
When champion Stefan Nieland became King of the festival he was adorned with a chain of heraldic plates, which was hung around his neck. He selected Diana Föcking as his queen to reign with him for one year.

Mueggenborg Family Reunion 2005
by Julie Stangl Johnson
350 Attend Reunion in Oklahoma
July 2005 — Some 350 relatives attended the Mueggenborg family reunion held Saturday, July 2nd at Holy Trinity Parish Hall in Okarche, Oklahoma. The event commemorated the centennial anniversary of Henry & Dora (Boes) Mueggenborg's arrival in Oklahoma, and was sponsored by their family's descendants. A huge collection of historical photos and memorabilia was displayed. Registration began at 3 p.m. and a catered dinner was served following the 5:30 Mass. Msgr. Dan Mueggenborg of the Tulsa archdiocese and Fr. Larry Gesy of Baltimore, Maryland, con-celebrated the Mass with Fr. Stephen Bird, pastor of Holy Trinity parish.
First-generation survivors from four families, (descendants of Henry and Anton Mueggenborg and Ben and Gerhard Mueggenberg) were recognized, along with the oldest relative in attendance, Emma (Huck) Mueggenborg of Okarche (94); the youngest, Hannah Rae Mueggenborg, daughter of Vince & Stephanie (Perdue) Mueggenborg (3 weeks), and the family that traveled the greatest distance, Mike & Cathy (Mueggenborg) McLaughlin of Augusta, Maine. Dorothy (Mueggenborg) Taylor of Shawnee was also acknowledged, since all 12 of her children were present at the reunion. Relatives attended from Arizona, Colorado, Illinois, Iowa, Kansas, Louisiana, Maine, Maryland, Missouri, Oklahoma and Texas. It was a wonderful opportunity to meet relatives that we never knew existed!
Nieland Family Reunion 2005
Ben Nieland Decendants Gather in Iowa
June 2005 — Over seventy descendants of Bernard Anthony Nieland (1890-1977) and Mary Ann Grote (1893-1981) enjoyed a family reunion at Speaker Park in Lake View, Iowa, of June 11, 2005. The group meets every three years, with the organizing help from several family members, including Paul & Connie and Cyril & Barb Nieland, Russ Bierl and Sharon Nieland Johnson. Everyone enjoyed a perfect Iowa day and the air-conditioned shelter house was just a bonus. The potluck lunch provided an Iowa feast with BBQ Pork and Beef, salads, vegetable dishes, breads, desserts and drinks. Family photos were taken and family members enjoyed visiting through the afternoon. Each of the families updated their genealogy records before the end of the day.

Nieland Descendant Named Executive Director of Girls and Boys Town
Big News for the Boes Clan
April 2005 — Father Steven Boes has been selected to be the fifth Executive Director of Girls and Boys Town, following in the footsteps of Father Edward Flanagan, who founded the organization in 1917. Girls and Boys Town is a leader in the treatment and care of abused, abandoned and neglected girls and boys that provides direct care through youth care and health care services to more than 43,000 children.
Father Steven Boes is the son of Eugene and Mary Jane (Nepple) Boes, grandson of Tony and Matilda [Fleskes} Boes, great granson of Theodore (1876-1950) and Anna M. (Schulte) Boes (1881-1956) and great great grandson of Gerhard Boes (1837-1919) and Maria Anna (Nieland) Boes (1843-1919).
Read more about Father Boes:

Nieland Family Reunion in Germany
Südlohn, Nordrhein-Westfalen, Germany
July 2004
Three cousins traveled from North America to Germany in July to meet with our Nieland cousins. Kay Davis from the state of Washington is the primary Nieland researcher; Elaine Lawson from California, created and maintains this web site; and David Nieland, did the original Nieland research in the 1960s.

A full itinerary of tours, visits, dinners, and parties greeted us and introduced us to our extended family and our homeland. We roamed the streets of Ramsdorf and Südlohn, enjoyed guided tours of the churches in both towns and the old castle (now a museum) in Ramsdorf. We were able to spend an afternoon at the farm north of Ramsdorf that in earlier times was owned by our common ancestor, Johann Heinrich Nieland (1809-1888) and is now owned by his descendant, Anton Nieland.
A high point of the visit was the Nieland family reunion in Südlohn. Relatives came from great distances to attend the event. More than 60 family members were there. We were able to spend many hours getting to know each other and sharing the Nieland Homepage with our family. Many relatives brought their old photo albums to show us and let us scan the pictures. The party continued into the evening and everyone had a great time.

Many thanks to all our cousins for taking the time to meet with us. Special thanks to Verena and Christa Nieland of Ramsdorf, Anneliese and Ludger Nieland of Südlohn, and Anton and Annette Nieland of Bleking, for organizing our visit and making it so enjoyable.
For more about the reunion, click on the links below:
---
German Cousins get Involved

November 2003 — We've seen a big increase in interest in Nieland family history by our German cousins lately. It seems that many of them are as curious about their American cousins as we are about them! Many e-mails and letters are crossing the Atlantic—updating the Nieland family tree with the latest additions to the family and exchanging photos, obituaries ("totenzettel") and newspaper clippings. Hermann Nieland's collection of old German family photos, which has remained hidden away for almost 50 years, is a bit hit. We're getting lots of help identifying the people in the pictures and hope to eventually have them 100% identified (see the Photos page).

Photo: Sabrina Dunkerbeck and Ricarda Broß, German cousins descended from John Gerhard Nieland (1840-1919)

We'd like to thank Sylvia (Klocke) Bünning, Nadine Nieland, Sabrina Dunkerbeck and Ricarda Broß and their families for their interest. Special thanks go to Verena Nieland, who has provided photographs, genealogical and historical information, and the German language version of the homepage.

American Cousin visits Ramsdorf

Megan Gramowski, a "Generation 10" descendant in the John Gerhard Nieland branch of our family tree, made the trip from Iowa to Germany and met with several Nieland cousins there on October 25-26 . This is the first face-to-face meeting between American and German Nieland descendants in many years and hopefully will be just the first of many such meetings. Megan, who lives in Breda, Iowa, arrived by train in Dortmund where she was met by her third cousin (once removed), Verena Nieland, and was escorted to Ramsdorf. There they toured the town with stops at St. Walburga church and cemetery, the old castle (Alte Burg) and a Nieland farm. Megan was able to share photos of her family and and scenes of Breda. All were amazed to hear that there are still Nieland descendants in Breda who closely resemble their distant cousins in Ramsdorf.

Photo: (Back) Hildegunde (Nieland) Gerwin, Josef Nieland, Christa (Münstermann) Nieland, Dominik Nieland, Heinz Gerwin, Markus Gerwin, Megan Gramowski. (Front) Verena Nieland and Ingo Gerwin.
Click on image. Klicken Sie das Bild an.

Reunion Plans

A few more American cousins are making plans to visit Ramsdorf in July-August 2004. We are very interested in hearing about future family reunions being planned. Please contact us if you would like your reunion details posted on this website.
Holy Trinity Catholic Church Celebrates its 100th Year
October 2003 — Holy Trinity Church, 211 W. Missouri St., Okarche, Oklahoma, will be celebrating it's 100th Anniversary on October 12, 2003. A special celebration Mass will be 10:00 a.m. with Archbishop E.J. Beltran scheduled to attend. A dinner is planned, along with an Open House to view mementos and historical documents about the formation of the parish. A cookbook prepared by the Alter Society will also be available for purchase. For more information, call the parish office (405) 263-7930.

Click on image. Klicken Sie das Bild an

Nielands Celebrate 70th Anniversary
A Card Shower Highlights the Event
January 2003 — Lawrence and Helen (Sanders) Nieland of Breda, Iowa celebrated their 70th wedding anniversary on Friday, January 17, 2003. They were married January 17, 1933, at St. Francis of Assisi Church in Maple River, Iowa.

Lawrence and Helen's children are Gene and Becky Nieland of Breda, IA, Ruth and Leon Tigges of Carroll, IA, Lois and Peter Cousseau of New York, NY, Sister Ione Nieland, FSPA of Ames, IA, Ethyl and Tom Unger of Silverton, OR. and Duane Nieland of Carroll, IA. They have 18 grandchildren and 30 great-grandchildren.

Card Shower — Send your anniversary greetings to 17303 150th St., Breda, IA 51436.

Nieland Genealogists Meet in Breda
Lots of new Family History Uncovered -- Photographs, Records, Documents and Memorabilia
October 2002 — Four Nieland genealogy researchers met in Breda in early October to dig through the family archives and compare notes about the Nieland family history. These four, with lots of help from many other family members and Nieland historians, have been collaborating for several years to update the family tree and document our rich family history.

David Nieland (son of Louis Nieland), well known as the author of Stammbaum Der Familie Nieland and a lifelong resident of Breda, did the original Nieland genealogy research in the 1960s. Recently he has dusted off his collection of old family photos, documents, and memorabilia and made them available to his fellow genealogists for use on this website.

Elaine Lawson (granddaughter of Rose Nieland), who designed and maintains the Nieland website traveled from California with scanner and digital camera in tow, to capture as much family information as possible and meet a few Nielands face-to-face. Her last trip to Breda was for Henry Nieland's funeral—53 years ago!

Leone (Wittry) Buelt (daughter of Anna Catherine Nieland), also born and raised in Breda is a relentless researcher who has provided much of the updated family tree data. Leone graciously opened her photo collection and scrapbooks to the group and let them photograph her family heirlooms.

Kay (Buelt) Davis (granddaughter of Anna Catherine Nieland), originally of Breda but currently living in Washington state, has become the new family archivist and is the "glue" that holds the project together. Kay's Nieland database already contains over 4,100 names—all descendants or married to descendants of John Bernard Nieland and Maria Gesina Van der Beck.

You can expect to see much new Nieland family information on this website in the coming months. Stay tuned!

David Nieland, Elaine Lawson, Leone Buelt, Kay Davis converge in Breda to scour the family archives and gather family history information.

Breda, Iowa Celebrates its 125th Year!
Happy Birthday Breda!
Excerpt from the Breda News, July 10, 2002
Where can we begin? Let's start with the horse show on Thursday morning, July 4th.

Dan Nieland and Dr. Dan McDermott put together a great show. The kids that were involved had a lot of fun, and we had a lot of fun watching the kids. Lots of spectators came to watch, as this was the first time such an event was held in Breda.

The adult riders had their time after the kids were finished. The team penning was really quite interesting to watch. I saw a few local riders such as Dr. Dan McDermott, Dan Nieland, Jason and Nathan Nieland, Michelle Nieland, Tom Schwarzkopf, Brett and Jennifer Schwarzkopf. They did well - except when Dr. Dan lost his hat!

Then on to the annual 4th of July celebration at Memorial Park. People were everywhere and cars were parked all over town. The kids games, gambling, beer garden, bingo and food stands were all busy and everyone seemed to be having a great time. Around 10 p.m. the Breda Happy Helpers 4-H group and the Junior Legion Auxiliary members did a patriotic dance routine prior to the annual fireworks display. The Breda Fire Department always does a great job with the fireworks and this year topped them all. What an awesome display!

Friday began much as Thursday - very hot!

There were Open Houses for the businesses and tours at several sites in town, including Toyne's Fire Truck Service, Snappy Popcorn, Christ the King School, Breda Depot, Bob Buman's Flower Garden and St. Bernard's Church.

At 7 p.m. The Breda Pageant was held in the gym of Christ the King School. Despite the heat, the gym was packed. Norma Kennebeck did a fantastic job writing the pageant and Sheri Dirkx and Gladys Nieland did a great job finding the clothing of the decades and the models to wear the clothing. Everyone enjoyed "Sonny and Cher", the Breda Bobcat cheerleaders, the "Oak Ridge Boys" and the "Soggy Bottom Boys". All in all it was a great night. Even the committee got through the theme song without too much trouble. At the end of the show, a bottle of Breda beer, the beer that was brewed this year for Breda Netherlands 750th celebration was uncorked, and a toast and cheer was given to both Breda, Netherlands and Breda, Iowa. The beer was a gift sent to the committee from Martijn Van Walwijk from Breda, Netherlands.

Saturday was here - the last day of the celebration and was it hot!!

Cars, tractors and floats all started arriving early in the morning and by 9:30 a.m. a traffic jam started in Breda. The intersection of E16 and Hwy 71 was very busy as cars from the north and south were trying to turn west.

We had anticipated about 125 entries in the parade and 140 showed up. Thanks to the people from Dedham, Templeton, Roselle, Maple River, Carroll, Carnarvan, Lake City, Lake View, Mt. Carmel, Wheatland, Arcadia, Wall Lake, Lidderdale and the surrounding areas that came with their floats and equipment to be in the parade.

The floats that were rated the best by those attending were those that sprayed water or threw water balloons. The kids also enjoyed all the candy that was thrown. And last but not least was the Breda Fire Truck with the hoses wide open. We hear that quite a few people were picked out of the crowd to get wet!

Thanks to Anton and Lillian Heisterkamp, our King and Queen and to all their attendants. Our Grand Marshals were Larry Toyne, riding for his father G.W. Toyne, Art Tiefenthaler and D.G. Partridge. We know it was hot, but all rode in the parade and had a great time.

The Tractor Pull and the Fireman's Brigade were both great. The crowd in the grandstand enjoyed the shade and the contest.

The 6 p.m. Mass at St. Bernard's was well attended.

A great crowd turned out for the street dance. We think that when the wind kicked up in the afternoon and the temperature dropped about 25 degrees, it helped. Salmagundi did a great job. The announcement of the winning teams of the Survivor Groups was also a highlight of the dance.

And then it was all over. Thanks to everyone who made the 125th Celebration a huge success!

Yahoo® and Google™ List Nieland Homepage!
Getting Noticed in Genealogy Circles
April 28, 2002. Creating a webpage is pretty simple. Making it easy for people to find it on the world wide web is a bigger challenge! We've been trying to spread the word to as many Nieland descendants as possible that we have created this site for sharing family history information. Lately we've been looking for new ways to link the site to the places where people frequently search for family history information so that folks can find us on their own.

We've submitted our URL (http://nieland.our-kin.com) to several major search engines and now this Nieland Family Homepage is listed on both Yahoo and Google. So if you have lost the web address, you can search on a phrase such as "Henry Nieland" and get the link to the Nieland site.

Other sites are noticing us, too, including the Carroll County GenWeb site, and are adding links to our site. We've also posted queries on the message boards of popular genealogical sites and the Nieland name is being included in major surname lists (e.g., RootsWeb.com) with links to this site.

Nieland Family History Website Launched!
December 24, 2001. This Nieland website is the culmination of several years work by three descendants of Henry Nieland and Anna Koster—Leona Wittry Buelt, Kathleen Buelt Davis and Elaine Pappe Lawson. Intrigued by the earlier research done by David Nieland, they wished to further his work by adding the names of family members born after the publication of David's well-known Nieland genealogy book, Stammbaum der Familie Nieland -- The Nieland Family Tree. In the process, they discovered a great body of information about the Nieland clan and developed relationships with many living descendants of Henry Nieland.

The website was created to present the information amassed to date in order to share it with other family members. Many thanks to the Nieland cousins, aunts and uncles who have contributed to the information presented here. Their photographs, clippings and other memorabilia and especially their first hand memories make the factual data come alive.

We hope that other descendants of Henry Nieland will come forward to contribute to this work so that the rich story of our common ancestry and heritage will be discovered and preserved for future generations.

Anyone with new information to share or corrections is invited to contact the webmaster.