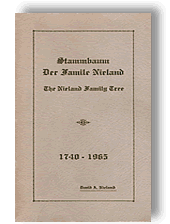 Research of the Nieland family history was begun by David Nieland of Breda, Iowa. To him we owe our thanks for his efforts in gathering an enormous amount of information, much of which is presented in this website. In 1965 he published a book entitled Stammbaum Der Familie Nieland: The Nieland Family Tree, 1740 - 1965. The following is an excerpt from David's book that is reproduced here with his permission.
Right: 1965 Edition of Stammbaum Der Familie Nieland, by David A. Nieland
The Family History
Now let's see, were any of my forefathers related to the Nielands?
Nearly every one of us has listened to a conversation like that at one time or another. We listened and wondered with natural interest just who were our ancestors.
Because of conversations like the above, a feeling that family ties come first and the fact that many of the younger cousins do not know their relatives, I started to collect data on the Nieland family.
I hope those of you who read this remember the old saying, "Blood is thicker than water." Now, don't get your hopes built up to finding some sort of "blue blood", duke, or king hanging from one of the branches. Remembering this, we can all meditate on the following words said long ago by some very wise man: "The heritage of the past is the seed that brings forth the harvest of the future."
Since 1952 when research on the Nieland family was started, many people and institutions have been exceedingly helpful. When there is great and good reason for acknowledgment of the many favors it is certainly in order that objective citations be made. Since people are more important than institutions -- "greater is man than his works" -- sincere thanks are hereby first extended to all the wonderful people who have helped me. Although I cannot thank each of these innumerable persons separately, I will extend my sincere thanks to one special person who did so much for so little. Josefa Nieland, of Ramsdorf, Germany, who did all the research in Germany.
Institutions whose resources have been tapped, lightly or deeply, as the case may be are: St. Walburga's Catholic Church, Ramsdorf, Germany: St. Bernard's Catholic Church, Breda, Iowa: The Breda News; the cemeteries in Carroll County, and the Sac and Carroll County Departments of Records.
Many of us would like to know something of the city from which our ancestors came: Ramsdorf, Westphalia, Germany.
As early as 5000 B.C. there was a neolithic stone forge in the mountains around Ramsdorf. Graves of the Bronze Age (from the time of 1200 B.C.) have been found. In 200 A.D. there is evidence of a German settlement. In the year 100 AD the name "Hramasthrope" (or "Hramersthorpe") appears for the first time. The old name "Hramsthorpe" means "Grammter Dorf", (rammed village). The city coat-of-arms shows this "ramme" or ram. The city seems to have been built on marsh-like soil. Therefore piles were rammed into the ground to support the buildings; hence, the origin of the name fits the city's beginnings.
Photo: John Henry Nieland and Elizabeth Osterhold Nieland
Over the years many changes occurred. In 1319 AD the town Ramsdorf was founded and received the freedom of a city. In 1410 the middle part of the parish church was built and in 1425 the castle was built. The Bishop of Muenster, Henric van Morse, constructed the castle, which is now used as a museum. The church added its tower in 1513. A great fire destroyed eighty-four houses in l566. Then came the Thirty Year War, causing much suffering.
Much later, in 1810, Ramsdorf was ceded to France. The destruction the French caused during their stay has been described by Henry Nieland who was shown the ruins as a schoolboy in Ramsdorf. Five years later Ramsdorf was ceded to Prussia. In 1840 the walls of the town were flattened and the city gates pulled down. After the Franco-Prussian War and the unification of Germany in 1871, Ramsdorf became part of the German Empire. 1893 saw the erection of Saint Walburga's Hospital, and in 1903 the railroad was built. In 1914 the parish church was enlarged.
The population has been steadily growing:
1822 - 1991 inhabitants
1860 - 2126 inhabitants
1937 - 2949 inhabitants
1962 - 3940 inhabitants
The above information was given to me by Sister Mary Patricia, S.N.D., of Withelemshaven, Germany.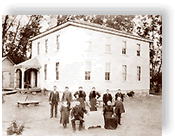 John Henry Nieland, the person to whom we can trace our ancestry, was born July 19, 1809, and died December 23, 1888. He married Elizabeth Osterhold, October 8, 1819. Elizabeth was born April 5, 1812, in Weseke and died October 11, 1890. It seems they lived for some time in Südlohn, then moved to Ramsdorf after their five children were born. It is interesting to note John and Elizabeth gave all their sons the name John and their daughters the name Maria. The children were called by their second name.

Photo: The Mrs. Leonard Boes farm. Front: Mr. Boes, Mrs. Boes, Joe. Back: Ted, John, Dora, Elizabeth, Ida.
Tradition tells us the Nielands were linen weavers. The men wove the cloth and the women did the farm work.
John Henry Nieland's oldest daughter, Mary Ann, the first Nieland to come to America was born January 16, 1843, in Südlohn, Westphalia, Germany. In 1867 she and her future husband, Gerhard Boes, emigrated to America. They were married February 1, 1870, by Rev. A. Kortenkamp at Dyersville, Iowa. After their marriage they moved to Carroll County. Then in 1874, they moved to a farm in Sac County located six and one half miles northwest of Breda.
Gerhard Boes was born in Ramsdorf, September 20, 1837. He served in the Prussian Army for several years, taking part in several wars. These wars were between Prussia and Denmark. In 1864 and in 1866 he fought in the wars with Austria and Bavaria.
In 1900 Gerhard and Mary Ann Boes move to a farm just west of Breda. Here they resided until 1913 when they retired to Breda.
Gerhard Boes died in February 18,1915, and four years later, March 28, 1919, his wife followed him to their final resting place in Saint Bernard's Cemetery.
Maria Angela Nieland the youngest daughter of John Henry Nieland was born April 17, 1849, in Südlohn; she died in Okarche, Oklahoma, February 27, 1925.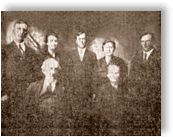 She, like her sister, emigrated to America. She was united in marriage with John Hoebing May 8, 1873. John Hoebing was born November 26, 1848, at Quincy, Illinois, and died in Okarche in 1934.
Photo: Front: John and Angela Nieland Hoebing. Back: Edward, Frances, George, Emma and Leonard.
After their marriage they lived at Petersburg, Iowa, while Mr. Hoebing was teaching school. In 1876 they moved to Sac County, while the country was still virgin prairie. Like the pioneer settlers those days they endured many hardships, even calling a dugout their home. Angela's sister, Mary Ann Boes, and her, brother, Henry Nieland, lived nearby.
One of the greatest tragedies occurred in July of 1882. A diphtheria epidemic took Angela and John's four oldest children on July 25, 27, 29, and 31. Angela's brother Henry Nieland later told of this epidemic. Living across the road, he at once came to help the best he could. Because of the danger of spreading the disease to his own family, he washed and changed clothes in the Hoebing barn. Not only did he help with the sick, but he helped dig the graves for his niece and nephews.
In 1890 Angela and John moved to a farm a short distance north of Breda where they lived until 1902 when they moved to a farm near Okarche, Oklahoma. They lived on this farm until 1911 when they moved to the town of Okarche. In 1923 they celebrated their golden wedding anniversary.
Mr. Hoebing is remembered for many things including his trip to The Holy Land in 1888. He was a teacher, a great traveler and a politician. One clipping tells of the celebration of his seventy-fifth birthday anniversary. At that time he was the mayor of Okarche. A surprise party was held, and His Honor was given the task of blowing out seventy-five candles on his birthday cake, "But he being habitually windy, he extinguished the seventy-five burning candles with but little effort".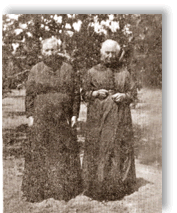 John Henry Nieland's youngest son, Henry Nieland, was born January 18, 1852, in Südlohn. His sister Mary Ann, Mrs. Gerhard Boes, wrote to her family telling of the greatness of America. In one of her letters she wrote telling that meat was placed on the table and a person could eat all he wanted. Partly from reading those letters, partly the coming of the Franco-Prussian War and partly through the urging of his father, he left the University of Vienna and decided to emigrate to America. He walked to Holland, took a boat to England, and then sailed by steamship from Liverpool to New York.
Photo: Angela Nieland (Mrs. John) Hoebing and Anna Nieland (Mrs. Gerhard) Boes
The trip to America was quite an event. The boat started to leak and all the able-bodied men had to man pumps while the leak was being fixed. It was a memorable trip for a seventeen-year-old boy. The cost of the trip from Liverpool to New York was eighty dollars and from New York to New Vienna, five dollars.
He came in the fall after the harvest in Germany, and arrived in time to help with the corn harvest in Iowa. On the train trip from New York he thought the corn tassels were the grain.
After working in Dubuque County for three years he settled on a farm in Sac County in 1869. The farm was located about eight miles northwest of Breda. Here he built a small shed for his horses and slept in the loft. His comforts were few. Ham and butter were kept in a stone jar and placed in a cool spring for refrigeration.
Rattlesnakes, at this time, were found in Sac and Carroll County. Some farmers believed that hogs helped to clear the farms of snakes, so Henry kept hogs for food and possible protection.
On June 15, 1875, Henry married Anna Berning. The first Mrs. Henry Nieland was born in New Vienna, Iowa, June 7, 1854. While a young girl she moved with her parents, John Gerhard Berning and Maria Anna Hatting to Breda. She and Henry were the parents of five children. She died October 30, 1883, five days after giving birth to a son named George.
On January 8, 1884, Henry was united in marriage to Anna Koester (Koster).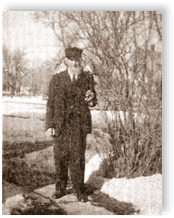 Anna Koster was born January 19, 1863 in Berge Furstean Osnabruck, Hanover, Prussia. Her parents were Hermann Koster and Margarito Krinkilmann. Anna Koster came to America at the age of nineteen, first settling in Illinois. Through the urging of her cousins she moved to Breda. The change in spelling of Koster to Koester was made at this time. Eleven children were born to Henry and Anna.
Photo: Grandpa (Henry) Nieland on his 90th Birthday
About 1884, Henry Nieland and his family moved to a farm one mile west and about two miles north of Breda where they resided until 1927 when they moved into the town of Breda.
Like other pioneers, Henry saw death many times. His first wife died in 1883, and his son George of milk fever, soon after. Catherine, a daughter, died about 1889 of brain fever and another son, Henry, died in 1931. His second wife passed on in 1933, lastly his daughter, Rose in 1935
Henry, for many years, held the honor of being the oldest resident of Breda and Carroll County. Always an active man for his advanced age, he is remembered for his large garden, card games with his neighbors, and his great love of literature. While still on the farm, he stayed up one cold winter night reading. The next day the neighbors investigated, thinking someone was sick, and found he had burned all the wood in the house, even the kindling.
He celebrated his ninety-fifth birthday in St. Anthony Hospital in Carroll, January 1947, having undergone major surgery. After a rapid recovery he was soon back doing his usual daily tasks. He lived to see his daughter, Mrs. Ferdinand Steinkamp, celebrate her Golden Wedding.
His death came peacefully and quietly late Sunday night, August 28, 1949.He was the last of a family of five children and left about 175 descendants at the time of his death.
In the Year 1740 a son was born to John Bernard Nieland and Maria Gesina Van der Beck. This son was born in Gemen.