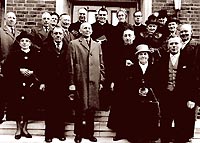 Postmark: Ramsdorf, 6/8/1965
Address: B.C. Nieland Family, R 4, St. Clound [sic]/Minn., U.S.A.
In the Town of his Forefathers Clair Boes Celebrates his First Mass. More...
Dear Uncle, Aunt and everyone,
Today on the day after Pentecost something from Germany. How are you? Are you all still in good health? Everything is the same here.
We had a big visit this April. [Mr. William] Boes and his wife, pastor and choir. But too bad about the poor understanding [language difficulties]. My sisters Paula and Josefa were in Innsbruck for the ordination. One day they [the guests from America] were at our house. We laughed so hard. But the time went by so fast.
Did you have a good harvest last year? Here it has been very good. Now my oldest girls Bernhardine and Agnes want to marry next year. Berhardine is marrying a bricklayer, however his house will be ready to move into in 12 weeks. Agnes is marrying a Kotten [small farmer] in Legden, about 40 acres in size. Anton works for Revert [the neighboring farm] as a day-laborer, 18 years old. Maria is 17 year old, a seamstress. Ludger is training to be an auto mechanic, 15 years old. Elisabeth is in her last year of school. And we are getting a bit older.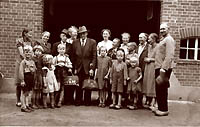 Please write again. You can write in English. I will get the letter translated by my teacher.
Greetings from Gerhard Nieland family
P.S. Greetings to everyone in the USA.
Gerhard Nieland Family with Bernard and Herman Nieland in July 1956